The Wylde Theatre Company would like to announce it's 2018 Launch Party Fundraising Gala!
Who are we?
The Wylde Theatre Company was founded in 2017 by Carly Brooke Feinman and Sara Duplancic, two theatre artists passionate about telling original, unusual, untamed stories.
What do we do?
The Wylde Theatre Company is an ensemble of vibrant, multitalented artists who aim to explore our collective humanity through imaginative, bold new works that artfully interrogate the pressing issues of today. Founded in 2017 by a playwright and an actor, The Wylde's unique voice stems from the power of exceptional collaborations amongst a diverse array of artists. Integrating community service into our creative endeavours is an integral aspect of our artistic vision, for the Wylde Theatre Company seeks not only to create outstanding art, but also to do so conscientiously. Soulfully. Daringly.
Why donate?
Today we are kicking off our fundraising campaign with a first wave of online donations! To support our inaugural season, The Wylde will also be hosting a fabulous Launch Party in a loft space in Little Italy on Saturday February 24th, 2018. The evening will feature an exciting taste of our 2018 season with performances from the original musical If Sand Were Stone by Cassie Willson and Carly Brooke Feinman, the original play Reflux, by Carly Brooke Feinman, and more exciting guest appearances. Tickets will be on sale in early January 2018, and will also include light refreshments and beverages to compliment the evening's entertainment.

So please join us at The Wylde's 2018 Launch Party Fundraising Gala on February 24th, 2018 (tickets will be on sale in early January), or make an online donation today! Every small bit of generosity will go a long way to bringing our vision to life.
​The Wylde Theatre Company is a sponsored project of Fractured Atlas, a non-profit arts service organization. Contributions for the charitable purposes of The Wylde Theatre Company must be made payable to "Fractured Atlas" only and are tax-deductible to the extent permitted by law.
When: Saturday, February 24th, 2018
More info and tickets coming soon!
---
A big thank you to Scott Rosenberg for being the official sponsor of
​The Wylde Theatre Company's Launch & Fundraising Gala!
Powered by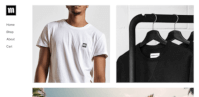 Create your own unique website with customizable templates.